The Festival Of Urgent Reinventions (f.o.u.r) is a virtual event centered around 4 briefs – aimed to tackle the world's most urgent and systemic issues.

Role: Creative Director
Client: The Great Foundation
Agency: Instrument
In 2020 we partnered with an New York-based NGO called The Great Foundation on the development of an idea that could make a difference in the world. That idea became
The Festival Of Urgent Reinventions
– F.O.U.R for short. A combination of talks and workshops by prominent change makers, and 4 actionable briefs aimed at tackling the world's most urgent and systemic issues.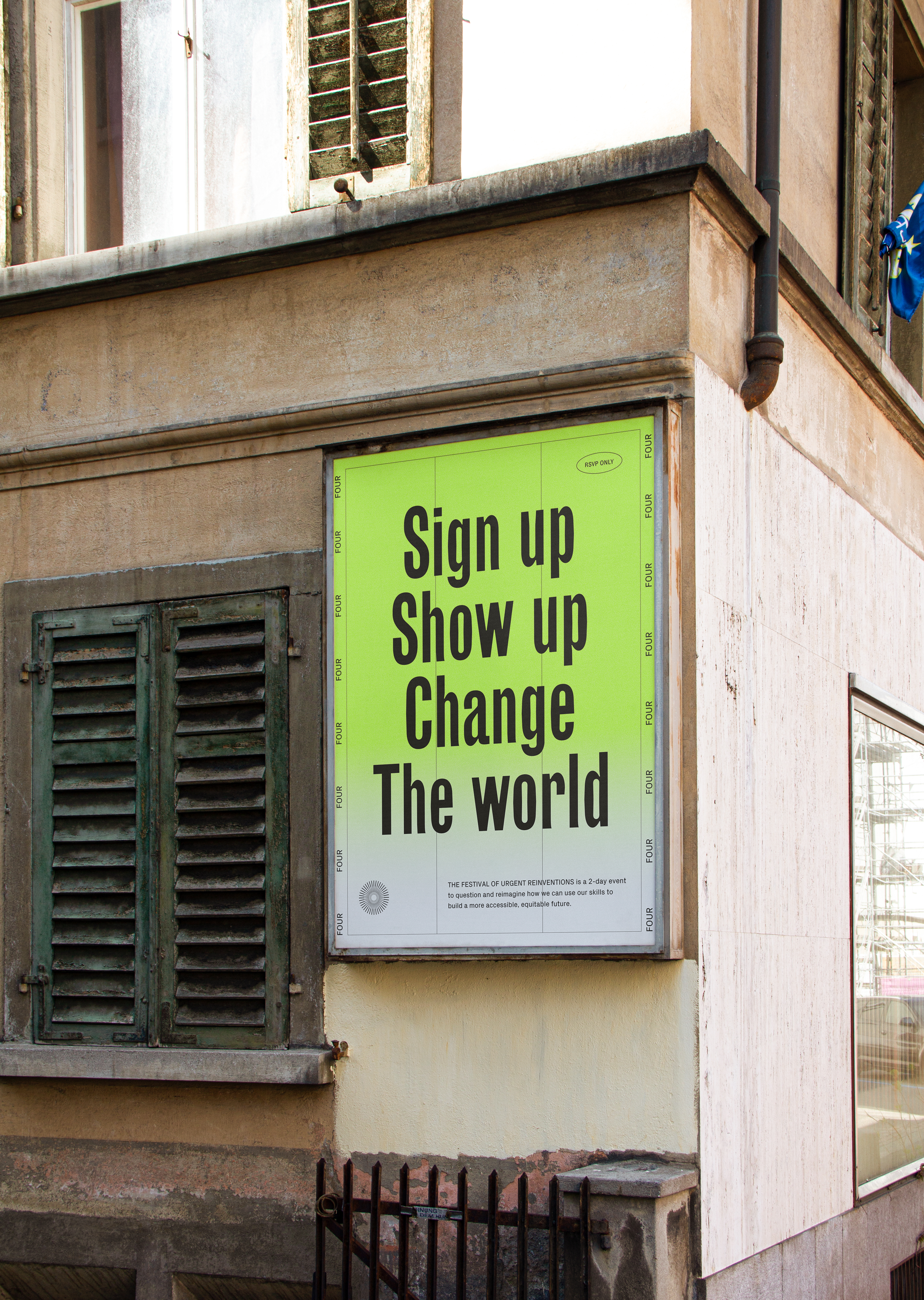 In 2020 the COVID-19 pandemic took more than 300,000 lives and infected over 17 million people in the United States. Record-breaking wildfires burned the West, and record-breaking hurricanes battered the Gulf Coast. Businesses shuttered. Schools closed. And in May, the murder of George Floyd at the hands of police set off an ongoing movement to dismantle structural racism.

In many ways, the events of 2020 have exposed the brokenness of 2019's status quo – institutions riddled with injustice and systems ill-equipped to handle compounding disasters.


It was a dark year that deprived many of hope and thrived on fear and misery. But this past year also showed us what's possible when we put our minds together—that the digital realm can be a space dedicated to community and progress.

That's why we started The Festival of Urgent Reinventions—to create a space for all of us to come together to reimagine how we can use our skills to build a more accessible, equitable future.


Historically we've always been told 'the wheel' isn't something worth reinventing. For F.O.U.R we turned the wheel into our symbol for investigating the status quo and radical imagination.

The visual identity system uses a flexible (and visible) grid to organise content, with content freely jumping out of this grid to convey disruption and reinvention. The typography paired with the color palette is loud and bold, amplifying the urgency of the topics.



The first edition of The Festival Of Urgent Reiventions took place on February 4-5, 2021. The event had a total 3,391 registrations, across 15 different time-zones. 70 total ideas were submitted, from which 4 eventual winner were selected.

Experience the full festival below: